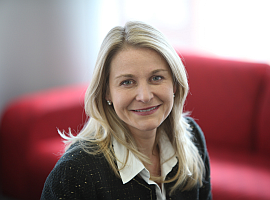 Angelika Sass is an executive and leadership coach specializing in career and personal transition with cross-cultural expertise. She has over 15 years of experience working in corporate finance where she navigated the pace of change in startups and fortune 500 companies.
Angelika has worked both domestically and abroad. She has firsthand experience supporting people in dynamic transitions in a number of industries including: investment banking, telecom, manufacturing and IT. Her coaching allows her clients to create awareness, clarity, intent and focus. This allows her clients to create the change they are seeking.
Reflecting on her successful career in finance, she realized that she had always gravitated toward the people aspect of the organizations where she worked and had a skill in building stronger and more effective teams and work environments. In 2009, she began to focus on this passion and talent by transitioning to coaching full time.
Angelika is fully supportive of her client and creates an environment that is safe and challenging.  She brings a holistic approach to coaching and encompasses the whole person: mind, body and emotion.
Angelika is a member of the West Coaching Network where she works collaboratively in a team of coaches to leverage the strengths of its members. By partnering with other coaches, LightPlay Coaching can offer a great breadth of expertise in a customized manner. For more information please go to http://www.westcoachingnetwork.com/.